Biography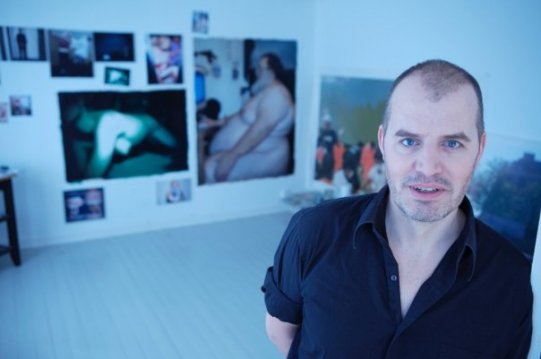 Artists statement
Niels Bonde b. 1961 Copenhagen Denmark
Lives and works in Copenhagen and Vienna.
"To briefly summarize, Niels Bonde's work deals with social interactions, often as mediated by technology. He explores how technologies are being continually inserted into the course of daily life, change our relationships to one other, and how any technology placed in the public realm tends to be coopted for purposes other than for which it was intended. To this end, his work forms a commentary on the world in which we live; at the same time, the manner in which he approaches his subject is frequently enlivened by a humorous or vulnerable sensibility indicative of the persistent pathos of the human conditions despite the (continued) utopian promises of technology's improvement and streamlining of life. Niels Bonde works in no single medium; his work is best "categorized" as installation/multimedia. The particular form of each installation is dictated by the conditions he wishes to investigate, and in this way, his oeuvre has a strong conceptual component."
Jennifer Riddell, curatorial fellow. MIT List Visual Arts Center.
I am an early proponent of digital art in Denmark, exhibiting new media works – digital media installations and video. My works explore what electronic and in particular digital media means to our culture and shapes us. My art is about control, surveillance, voyeurism, exhibitionism and paranoia, and how these topics have become core elements in our society rather than kinky fringe phenomenas. The ideas amalgamate in theories on images as currency, describing how they have become increasingly dominant in post-internet and -smartphone communication and what this new role means, and how the screen has become a defining reference in our understanding of the world.
Through the 1990's, I have been showing installations in museums and galleries counting Statens Museum for Kunst [DK], MIT List Visual Arts Center, ZKM Karlsruhe, Stedelijk Museum, PS1 MoMa New York, Pinacoteca do Estato de Sao Paolo, Heart [DK], ARoS [DK], Academy of Fine Arts Hanoi Vietnam, Contemporary Art Centre Vilnius Lithuania, Malmö Kunstmuseum and Deutsche Hygiene Museum Dresden.
I studied at The Royal Academy of Fine Arts Copenhagen and at Institut für Neue Medien at Städelschule Frankfurt.
Assistant professor at Malmö Art Academy Sweden from 1999 till 2005 and at Kunsthøjskolen in Holbæk Denmark from 2010 till 2016, and taught at the Royal Academy of Fine Arts in Copenhagen, Denmark. I am currently a PhD fellow at Universität für Angewandte Kunst in Vienna.
I live and work in Copenhagen, Denmark.
CURRICULUM VITAE:
2018 Niels Bonde Curriculum Vitae
PDF CATALOGUES:
2011 Cho's trip to the post office
2006 Bad Days + Souvenir.compressed
IN PRINT CATALOGUES:
2012. Die Leidenschaften. Ein Drama in fünf Akten. Deutsches Hygiene Museum. ISBN 978-3-8353-1078-0
2006. Hvedekorn. ISBN 87-21-02812-5
2002. CTRL (SPACE) Rhetorics of Surveillance from Bentham to Big Brother. MIT Press. ISBN 0-262-62165-7
1997. The Art of Detection: Surveillance in Society. MIT List Visual Arts Center. ISBN 0-938437-56-9