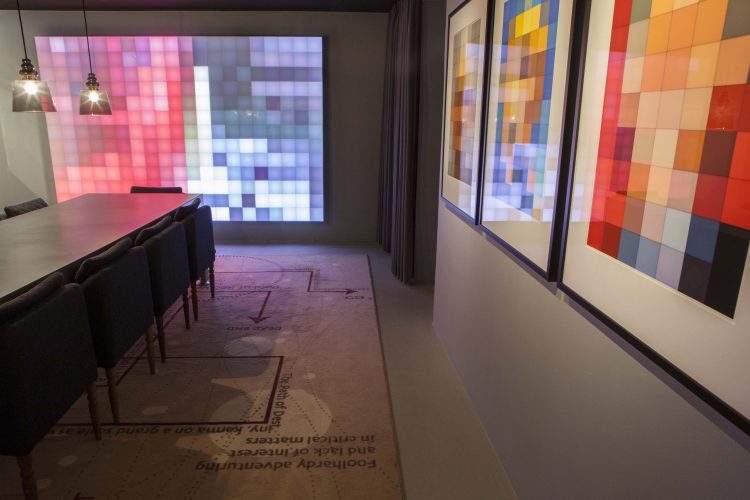 95% Sure Facial Recognition and other works.
"Since 1992 Niels Bonde has worked with the theme of surveillance through his art, which ranges wide over sculpture, painting, textile, video, installation and classic as well as new digital media. Three decades ago very few people would have considered surveillance a central factor in their everyday life. In 2018 it has become an inevitable condition to which everyone must relate; a condition whose diffusion, complexity and lack of transparency has only grown, and which – paradoxically – involves both restrictions on and potentials for the self-expression of the individual. Our personally sensitive data are leaked while we willingly share private moments with the whole world on the social media.  
In the lounge of the gallery we present a selection of Niels Bonde's most significant works from recent years in the form of sculptures, LED screens, tapestries, prints, garments and models. In the quiet, intimately lit exhibition spaces away from the busy street Bredgade the public are drawn into a darker, withdrawn universe where Niels Bonde manipulates, visualizes and comments with equal proportions of seriousness and humour on today's urgent issues of privacy. The exhibition 95% sure Facial Recognition and other works formulates the strange mixture of fascination and fear that characterizes our current relation to and use of surveillance".
(Press release Martin Asbæk Gallery)
Dansk version:
"Siden 1992 har Niels Bonde behandlet temaet overvågning gennem sin kunst, der spænder bredt over skulptur, maleri, tekstil, video, installation og klassiske som nye digitale medier. For tre årtier siden ville de færreste mennesker have betragtet overvågningen som en central faktor i deres dagligdag. I 2018 er den blevet et uundgåeligt vilkår, alle må forholde sig til; et vilkår som kun er taget til i udbredelse, kompleksitet og uigennemskuelighed og som – på paradoksal vis – rummer både indskrænkninger af og potentialer for individets selvudfoldelse. Vores personfølsomme data lækkes, mens vi velvilligt deler private øjeblikke med hele verden på de sociale medier.  
I galleriets lounge præsenteres et udvalg af Niels Bondes væsentligste værker fra de senere år i form af skulpturer, LED-skærme, tæpper, prints, beklædningsgenstande og modeller. I de stille, intimt belyste udstillingslokaler placeret væk fra den travle Bredgade trækkes publikum ind i et tilbagetrukket og mørkere univers, hvor Niels Bonde bearbejder, visualiserer og kommenterer med lige dele alvor og humor på samtidens presserende spørgsmål om privatliv. I udstillingen 95% sure Facial Recognition and other works formuleres den forunderlige blanding af fascination og frygt, der kendetegner vores forhold til og brug af overvågningen i dag."
(Press release Martin Asbæk Gallery)